Custom LOGO
1. Just tell us your specific demands and we'll handle everything else for you.
2. Customization will cost extra free. For more info, pls contact us.
1. To custom your own clothing, please send me the picture and printing position.
2. Printing or Embroidery will cost extra free. For  more info, contact me.
About Printing
We offer our customers different printing processes. Different printing processes show different effects and the costs required are also different. Please contact customer service for specific costs.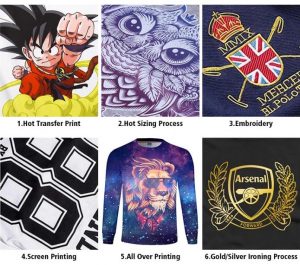 About Label
Clothing usually has a washable label, we provide customized service for washable labels. The price of embroidered labels will be slightly more expensive.