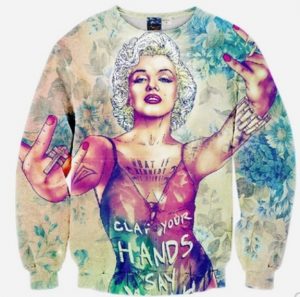 Product Name
High quality custom 3d print sweatshirts
Item Content
Optional
Fabric Composition Selectable Cotton (100% cotton )
Cotton / Spandex ( 95% cotton 5% spandex )
CVC ( 65% cotton 35% polyester )
TC ( 35% cotton 65% polyester )
Polyester (100% polyester )
Polyester / Spandex ( 95% cotton 5% spandex )
Bamboo / Spandex ( 95% bamboo 5% spandex )
Bamboo / Cotton / Spandex ( 65% bamboo 30% cotton 5% spandex )
Fabric  Weight
 Selectable
 140g , 160g , 180g , 200g , 220g , 240g , 260g , 280g , 300g, 320g
Neck Style
Choosable
O neck , V neck , Polo neck , Mock neck , High neck , hooded etc.
Sleeve style
Choosable
Short sleeves , Half sleeves , Long sleeves , etc .
Colors
 Choosable
 As you want, Any Pantone color or multi-colors can be customized Logo
Sizes
Customized Sizes
  European sizes, USA sizes, Asian sizes
Style Design
 Customized & Selectable
1. ur original design is welcome
2. we offer our design for reference if u donot have any design ideas
Logo Design
 Custom Design
Silk screen printing–Water ink , Rubber ink , Foil printing , Velvet printing, Glitter printing , Emboss printing , etc .
Embroidery–Normal embroidery , 3D embroidery , Bead embroidery , etc
Rhinestone , Nailhead , Rhinestud , etc .
Washed technic , Dip-dye , Patch ,Woven
The special features of our service
1. we also start small business cooperation, in the future gradually large orders. We also follow the principle of membership system, with the closer we cooperate, we will give you more concessions.
2. material, quantity, color, style, size, printing, embroidery, packaging, paper trademark, woven trademark, washing ingredients label. . . . . . Other requirements,
Can be made according to your request.
3. we always promise:
A. FOB: $ 0.99-15 (conventional style, offshore Ningbo)
B. material: long-term with a variety of materials, with how much to take.
C. delivery time: usually 3-15 days, special circumstances 15-25 days, or otherwise negotiated.
D. timely delivery of low cost: we can deliver home, airport or port.
E. flexible payment methods: wire transfer, Western Union, MoneyGram, PAYPAL and other channels.
F. free samples: stock samples free to send (custom samples returned in the order of the cooperation)
Sweatshirt style
Women' sweatshirt Women' sweatshirt styles include a pullover, a pullover, a slim fit, a gown, a blouse, a sleeveless shirt and more. Mainly in fashion and comfort, mostly casual style. Men' sweatshirt men' sweatshirt style has a set of head, open chest, long shirt, short shirt and so on. Mainly in fashion and comfort, mostly for business and leisure, sports and leisure style. The sweatshirt is only used as a casual casual wear, not as a men' formal wear.
Bear letter hooded plus velvet long-sleeved sweatshirt loose version, chic waist shirt, pink color, decorated with playful elegance. The bottom pendulum is irregularly cut and the tide is full. The design at the sleeves is also very chic. Delivers a sense of elegance. Cartoon pattern print, chic style sweatshirt jacket. Full of tidal feeling. Loose version, casually wear a full tide. A must-have for street tidal girls. The red sweatshirt can be worn with a black or brown down vest. If it's cold, it can be worn with any high-neck or low-neck bottoming shirt besides green. Many popular Korean scarves and bibs can be popular if you are cold. Match.