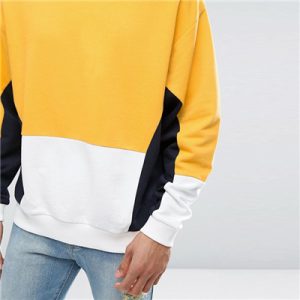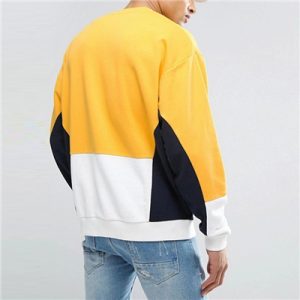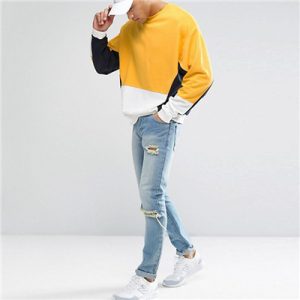 Product Type:

Sweatshirts for men

Material:

Cotton (100% cotton )

Cotton / Spandex ( 95% cotton 5% spandex )

CVC ( 65% cotton 35% polyester )

TC ( 35% cotton 65% polyester )

Polyester (100% polyester )

Polyester / Spandex ( 95% polyester 5% spandex )

Bamboo / Spandex ( 95% bamboo 5% spandex )

Bamboo / Cotton / Spandex ( 65% bamboo 30% cotton 5% spandex )

Fabric Weight:

100g,120g,140g,160g,180g,200g,220g,240g,260g,280g,300g

Size:

XS,S,M,L,XL,XXL,XXXL,XXXXL

Feature:

Eco-Friendly, Water Soluble

Logo Printing: 

water silk screen printing, glue silk screen printing, heat transfer,crack printing, glue bead printing, puff printing, stone printing(Customized is available)

Color:

white, black, red, yellow, orange, royal blue, light blue, dark blue,green, purple. Colors also can be customized if you provide Pantone number.

Package:

1pc/opp bag
What are the smart ways to wear sweaters?
If you look at the "Weightlifting Fairy Jinfuzhu", you may find that Wuli Fuzhu, that is really a man. As a powerful weightlifter, the way she wears a sweater is inaction, making the sweater a sweater and giving full play to the essence of its sportswear.
With sweatpants, that is a must. With cotton vest, it is necessary for cycling. The sweater is worn with the sweater, which is her favorite. Full of student feeling, energetic and simple and clean, but it may be a bit too childish, and if you are so good, it will be a little risky – anyway, if you meet your ex-boyfriend, you will not want to wear this. .
I would like to provide you with four more common and easy-to-wear sweaters. Today, I hope that the girls will be more inspired when they wear the sweater.
First, non-big breasts must-have – shirt + sweater
The first and second sweaters just mentioned in the first part are suitable for this combination, and it is a must-have.
Basic loose hooded sweater + shirt, it goes without saying that the super classic preppy looks, smart and clean, and loves the lower body skirt pants.
Short skirts and wide-leg shorts look like the whole person is tender and energetic!
Young people often go out in this style in the spring and autumn, age, what, can't hear! Anyway, I like it, I like it or I like it. The half-high-waisted pullover sweater is also very good, with a characteristic, versatile wearing feel, but the problem is that the short length of the inner and outer lengths may easily appear waist and leg short. Or wear a short bet on the lower body, anyway, as long as the legs are beautiful and generous to expose, you can optimize the proportion. This kind of match is really not suitable for the big breasted girl, only need a D CUP, that kind of college feels, relaxed, girlish wind, and instantly vanished. Nothing, there is a big breast behind!